Khan Academy Kids has Teacher Tools to supercharge learning for Pre-K through 2nd grade students! To access these features, simply download our app and set up a Class Account. The app is 100% free and can be downloaded from the Apple, Google Play, or Amazon app store. If you are already enjoying our app, convert your account in the Parent Section.
We're always adding new content—make sure you update your app regularly to see the latest!
See what's new!
Easily set up your class
Set up all the students in your class quickly and easily. For remote learning, share a unique and secure Class Code with parents to allow them to sign into and learn from home. Select the level for each student as a starting point, and our Personalized Learning Path will adapt to meet each child's skill level for different topics. To see how to do this, click here.
Search lessons by standards
Our content is mapped to the Head Start Early Learning Outcomes Framework and Common Core State Standards. This will make it easy for you to select lessons that fit with your teaching plans. Use the search bar to search for the standard you'd like to address, and we'll pull up a selection of lessons for you to assign to your class. We show you how here.
Assign lessons to your class
Create assignments for students to access. Our interactive lessons cover math, language, logic, social-emotional development, and creative expression, along with an overflowing library of books and stories to delight emerging readers. Teachers can easily select lessons to assign with a click. When students sign in to their Class Account, they'll see new assignments waiting for them! To learn how to do this, check out this article.
View reports to monitor student progress
Access real-time data about how your students are progressing. Identify areas of growth and opportunities to accelerate students. See how student progress reports work in this article.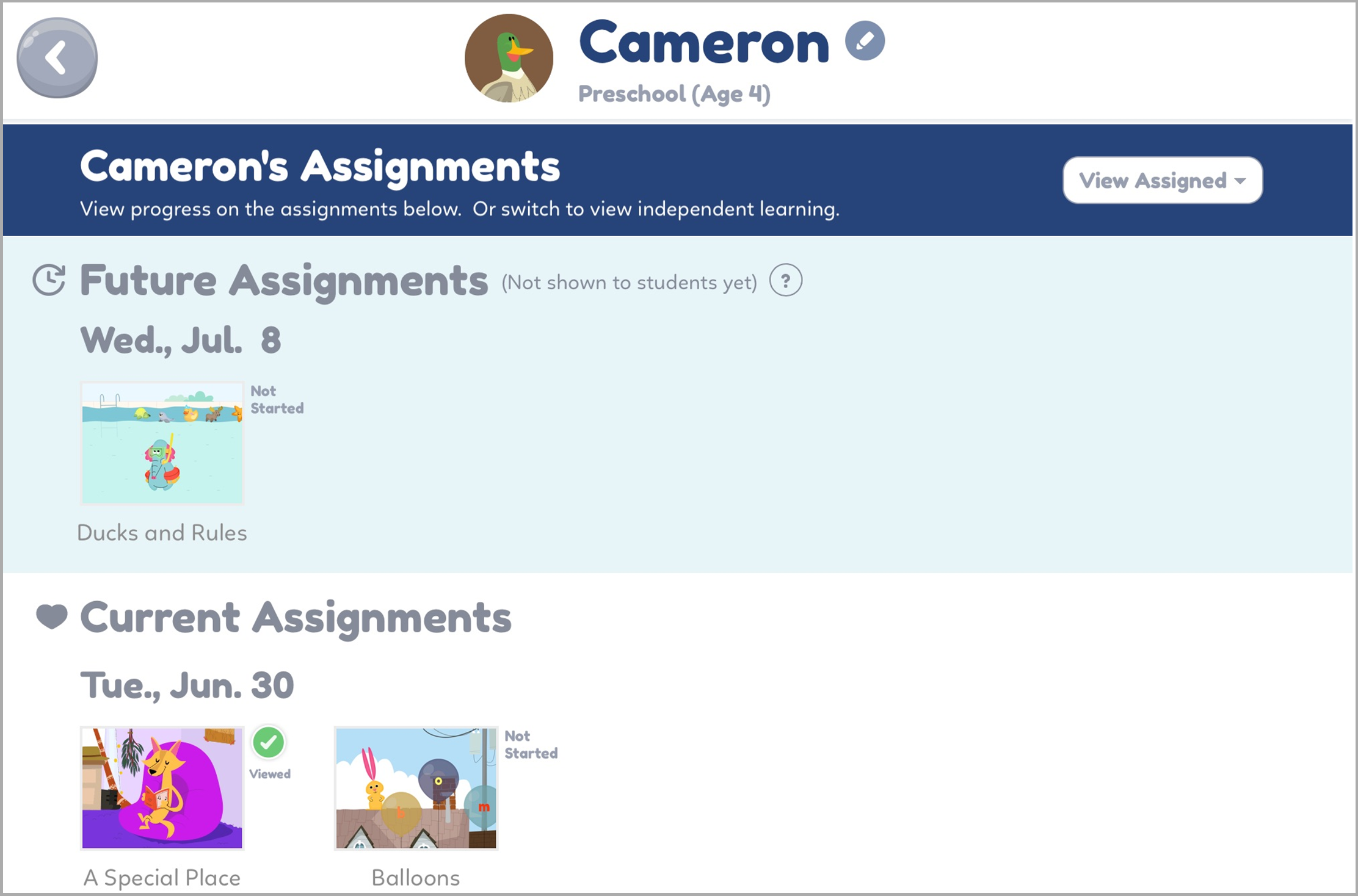 Parents are also able to make full use of Teacher Tools, including assigning work and reviewing the progress dashboard. If you are a parent who is new to Khan Academy Kids, consider signing up as a teacher while you are supporting remote learning. There are step-by-step instructions on getting started here. Families already using Khan Academy Kids can enable Teacher Tools in the Parent Section.
Khan Academy Kids is 100% free with no ads - even with all of these new features. Our app is free for teachers and families to use. Find us on Apple, Google Play, and Amazon app stores, or learn more at www.khankids.org.
If you have any questions about using the app, feel free to email our support team at khankids@khanacademy.org.
Our onboarding modules take you through each feature in-depth. Get started by reading Module 1 to learn how to set up your Class Account.