We've been busier than ever releasing new content in Khan Academy Kids. We want to give your children all of the tools they need to succeed every school year. Check out these five ways to use Khan Kids to help your learners thrive.
Develop early reading skills
Help children learn how to read with new phonics lessons that cover every letter of the alphabet. The expanded Letters tab in our app's Library now includes lowercase letters, uppercase letters, beginning letter sounds, ending letter sounds, vowel sounds, and CVC (consonant-vowel-consonant) words. With over 400 lessons to choose from, options for learning the alphabet are abundant! To see the lessons, head to the app's Library by clicking the purple book on the home screen and then selecting the Letters tab with Ollo the elephant.
Practice spelling and language
The Reading section of the Khan Kids app is growing. In our most recent app updates, we've released English Language Arts lessons that cover language skills such as spelling rules, parts of speech (nouns, verbs, and adverbs), vocabulary, grammar, and sentence structure. All together, our reading lessons support preschool through 2nd grade standards and are accessible through the app's Library and Learning Path. If you're scrolling through lessons in the Library, remember that the learning level on the gray dropdown menu can be adjusted by age to access more lessons. In addition, there are now over 300 books in our Library (fiction and nonfiction) to delight eager readers.
Encourage problem solving
The Math and Logic content in the Khan Kids app has been reinforced with lessons to boost thinking and problem solving skills. Kids can master math practice with word problems, equations, skip counting, odd/even numbers, place value, number lines, addition, and subtraction. Build critical thinking skills with monster memory games, flexible thinking exercises, and lessons for grouping, sorting, and following directions. We even have lessons that include measurement, currency, and telling time. Speaking of time, we love hearing when math time is a highlight of the day. That's our goal!
Spark curiosity by introducing new interests
We're so excited about our growing collection of fiction and nonfiction books in the Khan Kids Library. For kids who are getting ready to attend school, we have stories with themes that talk about feelings, teamwork, friendship, and first experiences. For kids who are curious about the natural world, we have brand new science books provided by our partners at Bellwether Media and National Geographic to capture their interest. From wild animals and pets to continents and outer space, we have your young reader covered.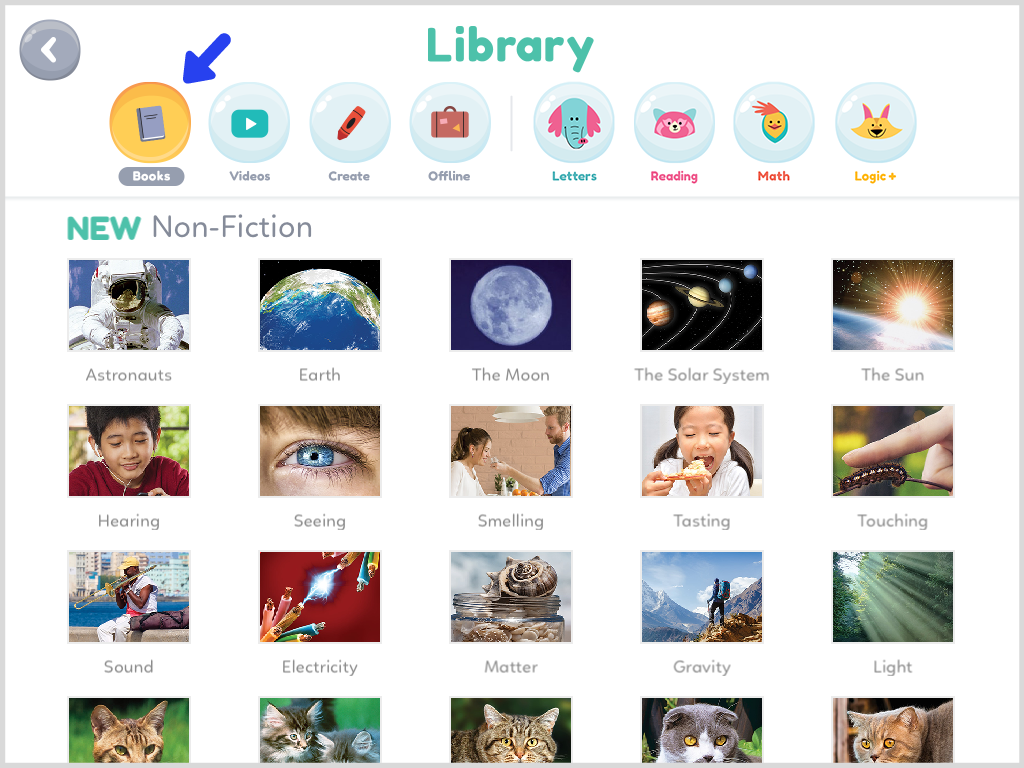 Make time for moving
Stretching and moving our bodies can help us take breaks when we need them most. Let kids reboot with new yoga videos in the Khan Kids app. These kid-friendly videos are courtesy of Alo Yoga and have fun themes like Dino Yoga, Surf Yoga, and Yoga for Focus & Flow. Each instructor guides children in a healthy routine for the mind and body. Parents, don't be surprised if you find yourself following along too!
We're here to help!
We wish that all kids have a great start to the 2021—2022 school year. Don't miss this list of resources for parents that we'll have on hand year-round. Plus, if you have any questions or suggestions about Khan Kids, email us at khankids@khanacademy.org. You can also find us on Twitter, Facebook, or Instagram where we'll be sharing #KhanAcademyKids learning tips throughout the year.