The new school year comes with a new roster of students. Read on to learn how to transition students out of your account and add new students to your class. If your school uses Clever, please click here to learn more.
Step 1. Tell students on last year's roster that the account is no longer accessible. Parents can download the Khan Academy Kids app for free on their personal mobile device. Their child's progress from your account will be lost. However, since the new school year is beginning, this will provide the opportunity for them to select the next grade up for their child when they create their own account. Send parents this link for more information about getting started with Khan Kids at home.
Step 2. Delete students from last year's roster. To delete students, open the app and enter your teacher view. It will automatically open to the Students tab. Tap the Delete Student button. Then select Delete All.
Step 3. The app will ask you to create a new password. This will ensure that students from last year can't access the account. After you create a new password, your Class Code will automatically change. Check your Teacher Settings for your new Class Code.
​
Step 4. Add new students. Go back to the Students tab and select Add Students. You will be able to add your entire roster at one time.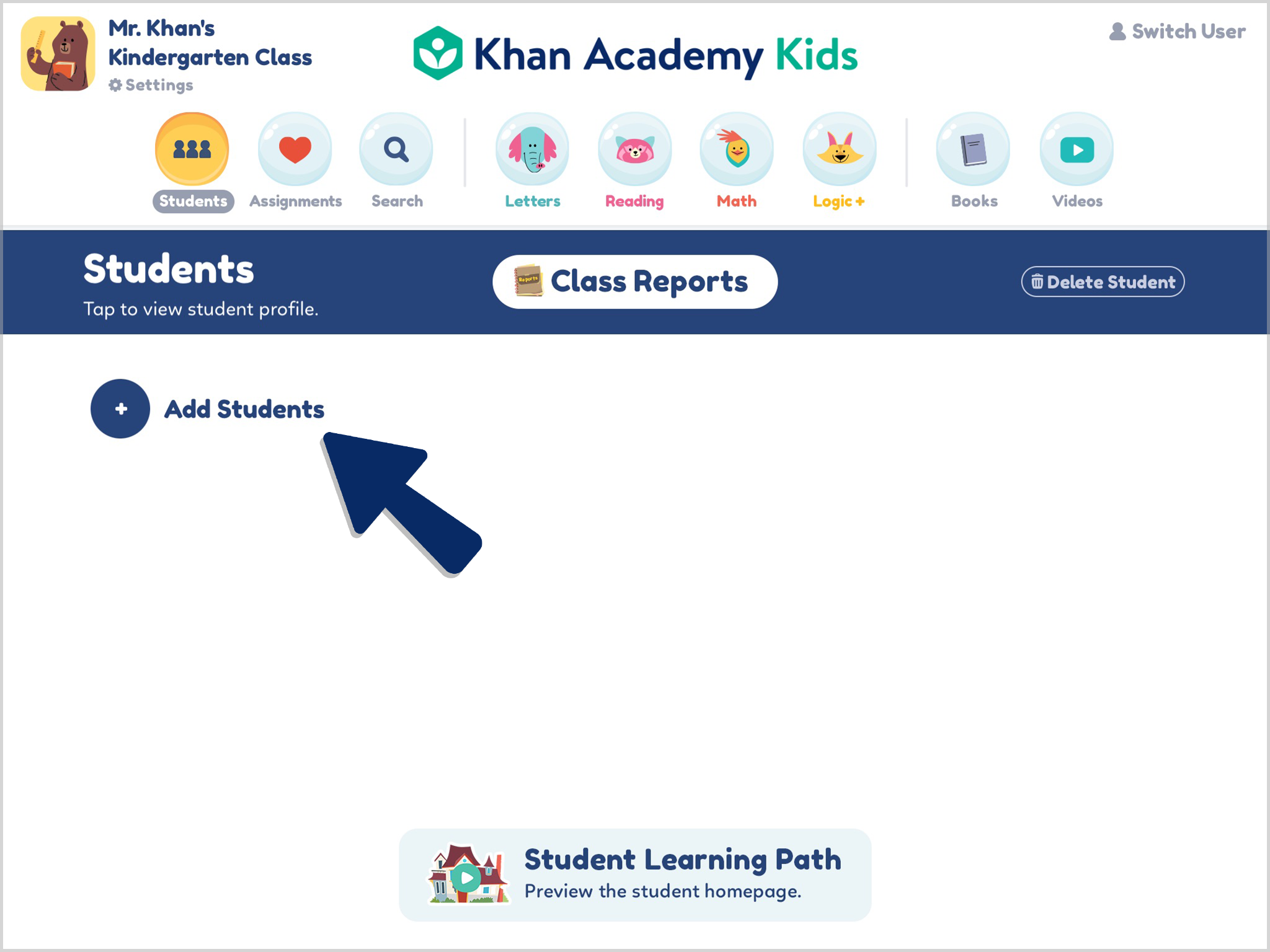 Step 5. Share your new Class Code with new students. You can share your Class Code directly from the Khan Academy Kids app. For step-by-step instructions, click here.
Rostering with Clever
If your school uses Clever, rostering for the new school year will be automatic. Additionally, student progress will travel with students as they move between classes. Learn more about using Khan Kids with Clever here.
Clever integration is a new feature! It was not available for the 2020-2021 school year. If you used Khan Kids last year but were not able to integrate it with Clever, you may be able to connect your existing account with your Clever credentials. This will only work if you signed up for your account using your school email address last year. Here's how:
Sign out

of the account you're currently using.

Tap the back arrow and select

Sign in with Clever

in the top right corner.

Select your school and enter your Clever account information.

The app will walk you through the process of connecting your account with Clever.
Questions? Our technical support team is ready to help! Email us at khankids@khanacademy.org