What is Khan Academy Kids?
Khan Academy Kids is a free, fun educational program that will inspire a lifetime of learning for young children ages 2-6. The curriculum is aligned with the Head Start Early Learning Outcomes Framework and Kindergarten Common Core Standards, and includes thousands of activities that delve deep into topics ranging from math to motor development.
The program is available as a mobile app on tablets and smartphones and is designed primarily for home and family use. But we have heard from teachers who are using Khan Academy Kids in their preschool and kindergarten classrooms. See our 5-star review on Common Sense Education for tips on teaching with this tool.
What are the learning topics covered by Khan Academy Kids?
The learning content inside Khan Academy Kids includes thousands of activities and books for kids ages 2 -6 that are aligned with the Head Start Learning Outcomes Framework and Common Core Standards. These activities delve deep into topics ranging from math to motor development, as follows: 
Reading and literacy—knowledge of print, phonological awareness, alphabet knowledge, fiction and nonfiction books, spelling, early writing, and more

Language—vocabulary, opposites, prepositions, common objects, verbs, adjectives, and more

Math—counting, numbers, quantities, addition, subtraction, shapes, measuring, ordering, patterns, and more

Social-emotional development—social relationships, emotional development and control, empathizing, friendships, and more

Executive function and logic—focus, self control, working memory, flexible thinking, problem solving, and more

Motor and physical development—gross and fine motor development, safety, health, nutrition, and more

Creative expression—drawing, storytelling, recording, self expression, coloring, and more
Our adaptive learning path creates a sequence of activities by adjusting to your child's level. To get a full view of our scope and sequence, navigate to our Library. From the home screen, tap the book icon in the top left corner. You will see an extensive menu of activities, books, and videos, which entails the full scope of our app. The library also allows you to see the sequence with our leveling feature. For 123, Reading, and Logic + tabs, you will see a small drop down menu to select Levels A-D. We recommend 2 year olds use level A, 3 year olds use level B, and so on.
How do teachers set up an account on Khan Academy Kids?
When using Khan Academy Kids for the first time, users will be prompted to set up an account with an email address. A single teacher email address can be used to set up multiple profiles for students in a classroom.
Please note that the Khan Academy Kids mobile app is separate from the main Khan Academy website and requires a separate account. If you already have an account on khanacademy.org you will still need to sign up separately for the Khan Academy Kids mobile app, but you can use the same email address for the new account.
To sign up, download the free Khan Academy Kids app, enter your email account on a single device, and add user profiles with names and avatars for each student. See the steps on our Help Center for creating an account and for adding new users.
After the account is verified and user profiles for each student are created, load Khan Academy Kids onto other devices in the classroom using your same teacher email and password. Be sure to select "already have an account" on the sign-in page when loading the app onto multiple devices.
Once Khan Academy Kids is installed onto classroom tablets and signed in with the teacher's email and password, students can open the app on their device and tap the avatar with their name to start playing. Because every user profile includes personalized learning progress, it is important that children do not use the profiles of other students.
How do children use the app?  
From the home screen, students can choose to tap the big green button to start a personalized learning journey with Kodi the bear, or they can choose their own activities from the Library or character rooms.
The Learning Path automatically cycles through topics like math, language arts, logic and social-emotional development. The Learning Path surfaces content at a level that is appropriate for each student based on how they are doing in the app. If students get interrupted while playing on the Learning Path, they will automatically start at the next lesson upon returning to the app and pressing the play button. 
See our tips for exploring and using the content in Khan Academy Kids, and how our lessons are designed to support interactive learning.
How can Khan Academy Kids help students get ready for school?
The first day of school can be very exciting. Open Khan Academy Kids to find fun activities for learning letters, numbers, shapes, colors, social skills and daily routines. Read our recommendations on ways families can use Khan Academy Kids to start kindergarten strong.
Can teachers view learning progress for their students?
Teachers can see progress for each student by opening the Library inside the app. Access the Library by tapping the purple book icon on the top left corner of the Home screen. If an activity has been completed, colored check marks (green, yellow or red) will indicate a student's progress on a topic.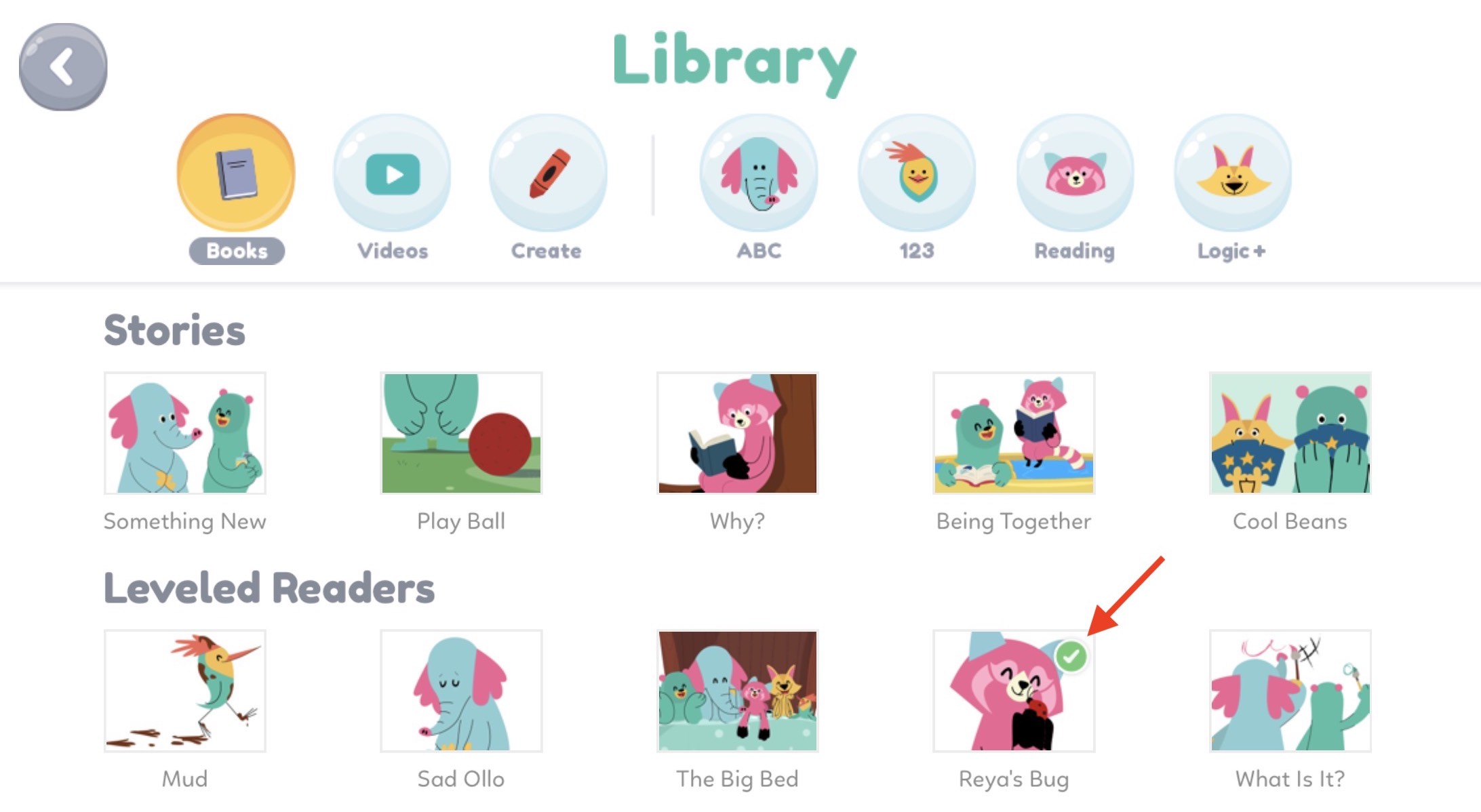 Is there a web version of Khan Academy Kids?
At this time, Khan Academy Kids is only available as a mobile app on smartphones and tablets. The app is supported across three mobile platforms, including Apple's iOS App Store, Google Play, and Amazon.
Is there a presentation I can use to introduce teachers to Khan Academy Kids? 
Yes, here is a slide deck for introducing Khan Academy Kids: khan.co/KhanKidsTeacherOverview. The deck includes ideas for how to use Khan Academy Kids in a classroom setting. 
We'd like to hear what you think
Teachers and educators, feel free to contact us at any time throughout your classroom deployment by emailing us at khankids@khanacademy.org with questions or comments.

We also love to hear from you on social media. Follow us on Twitter, Instagram, and Facebook so we can hear about all of the ways you are using Khan Academy Kids in the classroom.