Khan Academy Kids is a free, fun, educational app with thousands of activities and books that will inspire a lifetime of learning and discovery for young children ages 2-8. Download the app on the Apple, Google Play or Amazon app stores, open the app to sign up with a parent email address, and then head to the Home screen to let the joyful learning begin!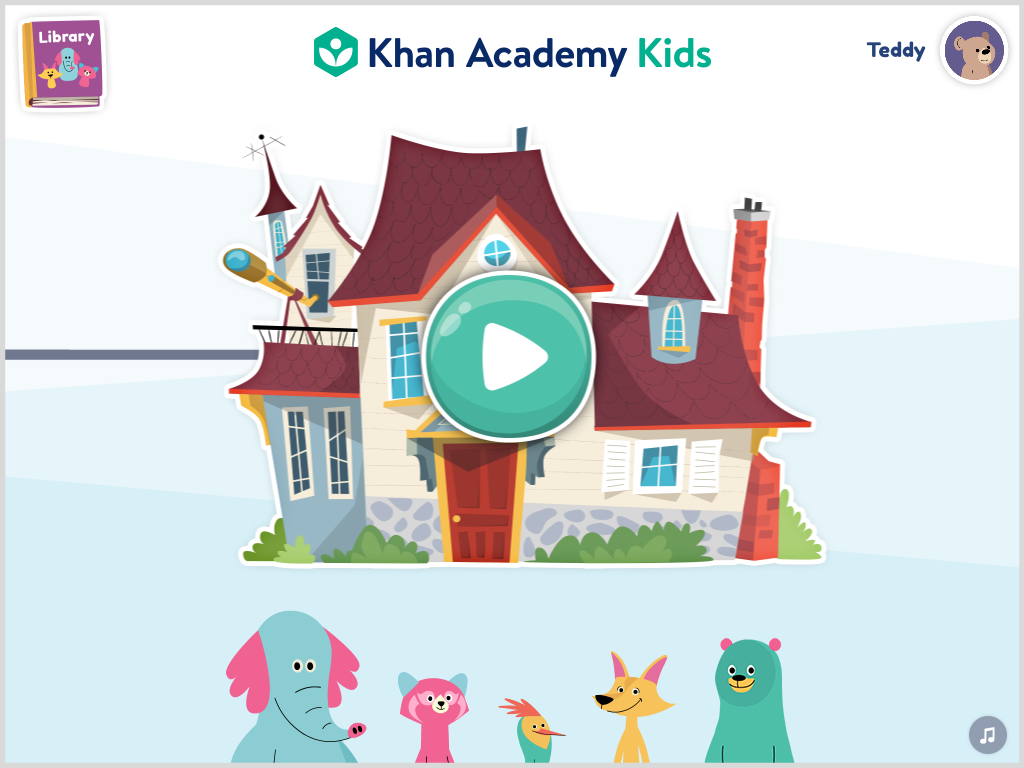 Tap the big green button to explore the Learning Path
From the Home screen, tap the large arrow to begin a personalized learning path that includes educational videos, interactive activities, and encouraging feedback. Listen and learn with Kodi, our guide character, who is always available to help.
When children press the play button, the Learning Path automatically cycles through topics like math, language arts, and social-emotional learning. Content along the path surfaces at a level that corresponds to how the child is doing in the app. Read this article to learn more about learning level progressions and adjustments.
TIP: Ask your child to tap Kodi to hear what she says next!
Tap the purple book to open the Library
Children can visit the Library to choose from thousands of children's books, videos, and activities. Access the Library by tapping the purple book in the top left corner of the Home screen.
Read books in the Library
The Library features original storybooks based on the colorful characters inside Khan Academy Kids, along with nonfiction nature books provided by our wonderful publishing partners. Each book is available in Read-to-Me or Read-by-Myself mode so parents and children have the option of reading independently or together.
TIP: Pick out a storybook from the Khan Academy Kids library in the Books or Reading sections, choose "Read by Myself", and read aloud together while talking about your favorite pictures.

Sing songs in the Library
Explore the Video and Logic+ sections of the Khan Academy Kids Library to find your favorite songs. Scroll through classics like Head, Shoulders, Knees, and Toes or Happy and You Know It. As Kodi says, it's time to get our bodies moving! Our song library encourages families to put down the device and move along to the song.
TIP: Sing and dance to your family's favorite song. Select the Video category inside the library and sing along to Baby Shark by Super Simple Songs.
Enjoy learning in the Library
Looking for a specific learning topic? Browse categories such as Letters, Math, Reading or Logic+. Discover new concepts and practice skills that cover letters, words, numbers, counting, flexible thinking, social-emotional learning, and more! Read this article to learn more about finding books and lessons in the app's Library.
TIP: Create artwork with your kids. After a learning excursion is completed, head to the Create category in the Library to select a background, color with crayons, and record a short story about your day.
View progress in the Library
In the Library, you can see which activities your child has completed. Colored checkmarks indicate your child's progress on a topic. Read this article to learn more about viewing progress and adjusting learning levels in the Library.
Tap the animals to meet each character
Visit each character in the Khan Kids App by tapping them along the bottom of the Home screen. See their rooms, play with their toys, and watch their collections grow as children learn and earn rewards with Khan Academy Kids!

Each character has an activity for kids to enjoy.
Tap Ollo the elephant to have fun with bath toys

Tap Reya the red panda to investigate her bug collection

Tap Peck the bird to dress up in his closet

Tap Sandy the dingo to play her musical instruments

Tap Kodi the bear to try on a colorful selection of hats
TIP: Does your child have a favorite character? Ask them for an introduction by inviting your child to show you around the character rooms and collections.
More features for parents
Use Khan Academy Kids online and offline
An internet connection is required to access all of the learning content for the Khan Academy Kids program. But we also have a special section of the app's Library that is available offline called Kodi's Suitcase. Here, young learners can enjoy Khan Academy Kids anytime, anywhere, even without an internet connection.
Access Parental Controls
Khan Academy Kids provides parental controls to focus a child's learning experience in the app. If parents wish to limit access to certain sections of the app (such as videos) these preferences can be activated in the app's parent section.
Questions?
If you have any specific questions about using the app, feel free to email our support team at khankids@khanacademy.org. You can also find us on social media on Twitter, Instagram, or Facebook.