If you're a Teacher using a Khan Academy Kids Class Account with students, you can use Class Codes to sign in easily across multiple devices.
The Class Code can be used with students at home for remote learning or students in the classroom. If students are learning from home, you can send parents the code so they can help their child sign into Khan Kids. If you are a teacher looking for more resources to help roll out Khan Academy Kids with your students and families, click here.
Step 1: How to find and share your Class Code (for Teachers)
1. Tap your teacher avatar and enter your password. This is your teacher view. Tap your teacher avatar in the top left corner to view your "Teacher Settings" page.
2. Your Class Code is shown in the Teacher Settings.
You will be able to copy or generate a new Class Code at any time by clicking on the drop-down menu next to the code.
3. To share your Class Code, tap "Share Class Code" and you will see the following screen.
Note: There is a Text Code (39VT38) and a Scan Code. When students/parents use the code they will be able to choose whether to type or scan the code. Please note that the code "39VT38" is a sample code.
4. You have 3 options for sharing your Class Code:
Print

You may want to print out Class Codes for each student to use inside the classroom or to send to parents via regular mail.

Save to Camera Roll

You can use this option to send the code to parents or students via other methods (text, other classroom apps).

Email as PDF

This will generate an email to parents that includes a message from you, along with the Class Code and instructions for using it to sign in. Tap send.
Please note that if you change your password or edit your Code, you will need to distribute new Class Codes.
Do not post your code on social media since it will allow others to sign into your Class Account. The Teacher user will always require a password so students will not be able to see the teacher dashboard.
Step 2: How to use Class Codes to sign in (for Teachers, Parents, and Students)
1. Download the "Khan Academy Kids" app onto a mobile device (iOS or Android). The app can be downloaded for free from the Apple, Google Play, or the Amazon app stores. Note: If you already have Khan Academy Kids on your device, follow these instructions to sign out of your existing account before proceeding to the next step.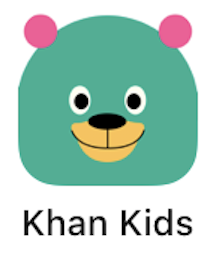 2. Open the Khan Academy Kids app and tap the "Sign in with Class Code" button in the top right corner of the Sign Up screen.
3. A dialog will pop up asking whether you want to Type or Scan a code.
If you select

Type

a Code

, type the Code into the dialog (e.g., 39VT38):
If you select Scan a Code:
i. A dialog will pop up asking for permission to use your camera. You will need to allow Khan Academy Kids access to your camera in order to sign in with a Class Code.
ii. Scan the Class Code. You do not have to print out the code to be able to use it. You can scan it directly from another screen or device. Please note that the code "39VT38" is a sample code. You will need to get a Class Code directly from your teacher.
4. Now a dialog will ask "Who will be using this device?"
Pick the whole class (for shared devices at school)

Or pick a student (for students using Khan Kids at home or on a 1:1 device at school)
5. Super! You are signed in to the Class account. You will either see one student's avatar or all the avatars in the whole class.
6. On the student homepage, students can tap the Library button in the top left corner to view assignments from the teacher.
To continue through our Class Account onboarding modules, read Module 3 next to learn how teachers can assign lessons.