Khan Academy Kids engages students in a Pre-K—2nd grade learning journey designed in collaboration with learning experts at Stanford University, and aligned with the Common Core State Standards. Students love the fun, interactive learning experience, quickly endearing themselves to the five characters and their diverse interests. With the help of the guide character Kodi bear, students can navigate the app completely independently. And rest assured, everywhere students tap in the app leads to an educational experience.
What teachers can do with Khan Academy Kids:
Easily set up a class
If you sign in with your Clever account, you will automatically see your classes in the app. Students can sign in quickly with their Clever badge, or they can select Khan Kids from their Clever Portal.
You can edit student information from your teacher view in the Khan Kids app. Go to the Students tab and select a student name to edit a student's avatar or their learning level. The level you select will serve as a starting point for their personalized Learning Path, which will adapt to meet their skill level for different topics. When students open the app for the first time, all they have to do is press the big play button to begin their learning journey! Learn more about the Learning Path here.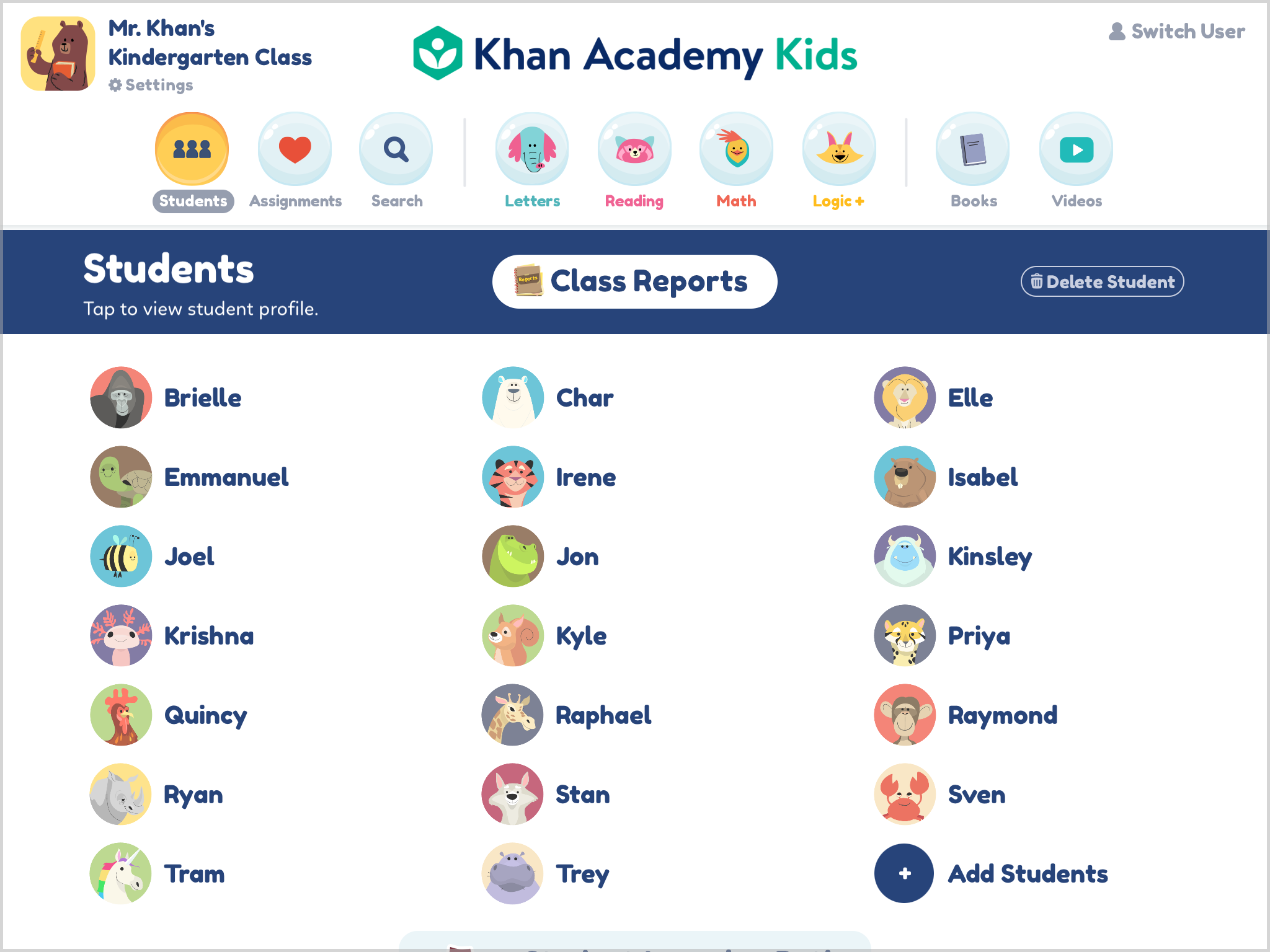 Search for lessons by standard
Our content is mapped to the Head Start Early Learning Outcomes Framework and Common Core State Standards. This will make it easy for you to select lessons that fit with your teaching plans. Use the dropdown menu to search for the standard you'd like to address, and we'll pull up a selection of lessons for you to assign to your class. We show you how here.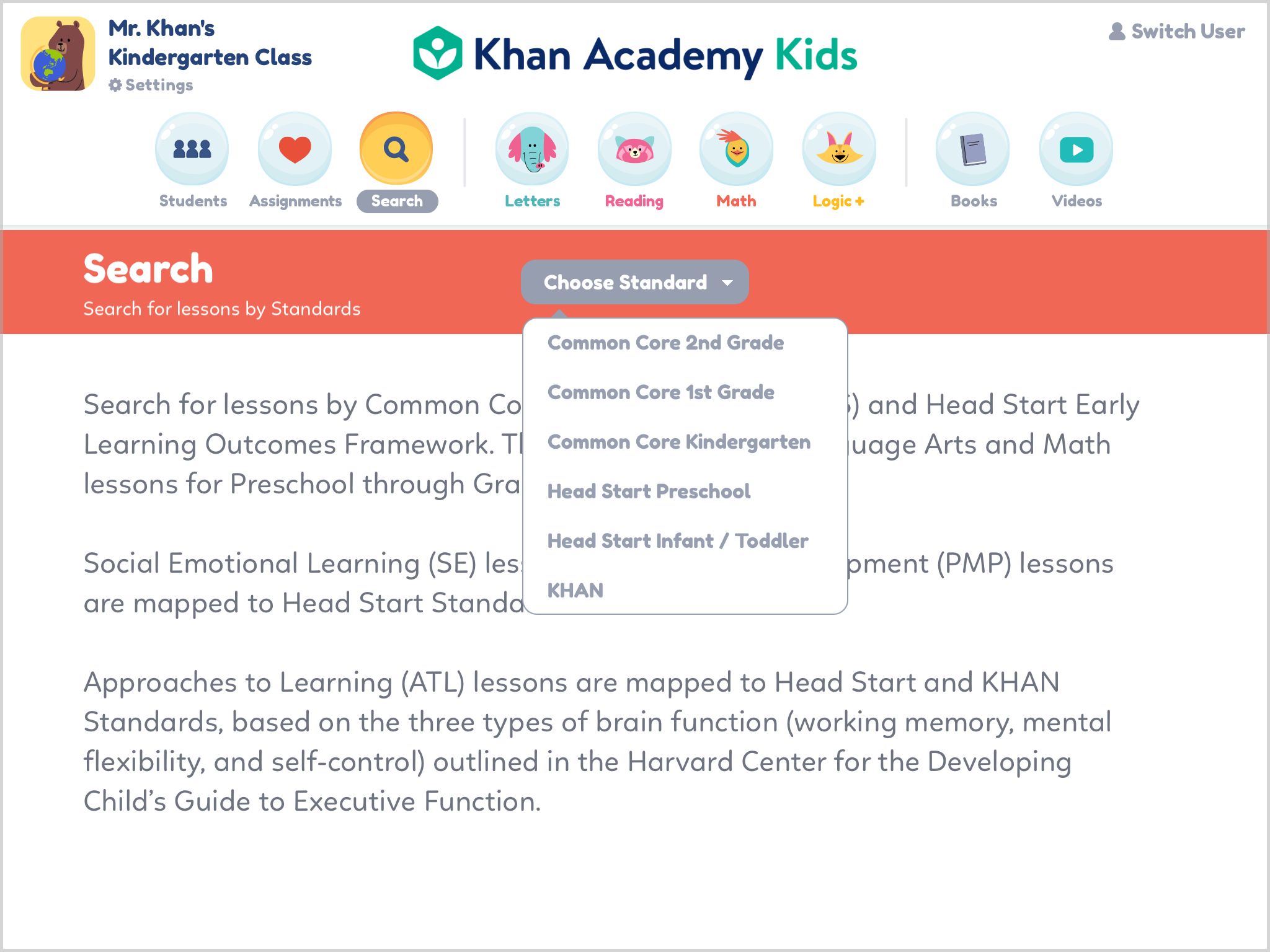 Create assignments
Teacher Tools allow teachers to quickly find lessons to reinforce key skills that are being taught in class. As you browse through the tabs at the top of the screen—Letters, Reading, Math, Logic+, Books, and Videos—you'll find lessons for each letter of the alphabet, for numbers 1-20+, for patterning, sight words, phonemes, shapes, word problems, and so much more. Teachers can tap any lesson to assign. When the assignment has been created, students will see a heart icon that indicates new assignments are waiting for them!
And now, differentiation is easier than ever—teachers can assign lessons to the whole class, to an individual student, or to a small group. Lessons are clearly labeled according to their level: Main, Practice 1, Practice 2, and Basic. Start by assigning the Main lesson, and then assign the Basic version to students who need extra support, and Practice lessons to students who are ready for a challenge.
Monitor student progress with in-depth reports
Our progress reports are newly refreshed to help you meet students at their level. We've added new information so you can identify student needs at a glance, and we've added new features that make it easy for you to respond to this information in real time. Find these reports in your teacher view by selecting the Students tab and tapping Class Reports.
You'll see two different reports: an Assignments report and an All Progress report. The Assignments report only shows lessons that you or your co-teacher have assigned. The All Progress report shows every lesson that students have completed. This includes their completed assignments, activities they've completed in their Learning Path, and any lessons they've played through in the Library. The All Progress report combines this information so you can see students' overall progress to learning domains.
Tap a lesson on the left side of the screen to assign, edit, or preview. Tap a student score to view each past attempt and the corresponding score history. You can also now email these reports to your desktop computer for easy viewing, or email individual student reports to parents for an academic update. Learn more about these reports here.
Now you're ready to start using Khan Academy Kids with students! If you have any questions about using the app, please send an email to our support team at khankids@khanacademy.org