What is pre-literacy?
Pre-literacy is the period of time before a child can read or write on their own. Children start developing pre-literacy skills as soon as they are born, and there is a lot of research that shows a strong pre-literacy foundation will lead to long-term success both in and out of school. Pre-literacy can include:
Narrative skills
Telling or understanding stories

Asking and answering questions

Participating in conversations and following directions
Vocabulary development
Knowing and using all kinds of words

Asking questions about new words

Making connections between words: for example, comparing the words "big" and "huge" or connecting the word "jump" to the meaning of the word "jumpy"
Print awareness
Knowing what printed words are and noticing them

Understanding how to hold and handle a book

Following along as a book is read; knowing that English print is read from left to right
Print motivation
Being excited to read and listen to stories

Thinking about and responding to stories

Seeing reading as something fun
Letter knowledge
Knowing that there are different letters that make different sounds

Knowing the names of the letters

Knowing the sounds the letters make
What can I do to help my child develop pre-literacy skills?
Setting your child up for success as a reader and writer is easier than you might think. As long as you're reading, talking, and listening as a family, you are helping your child grow their pre-literacy skills. Here are some ideas to get you started. You can download this tip sheet below.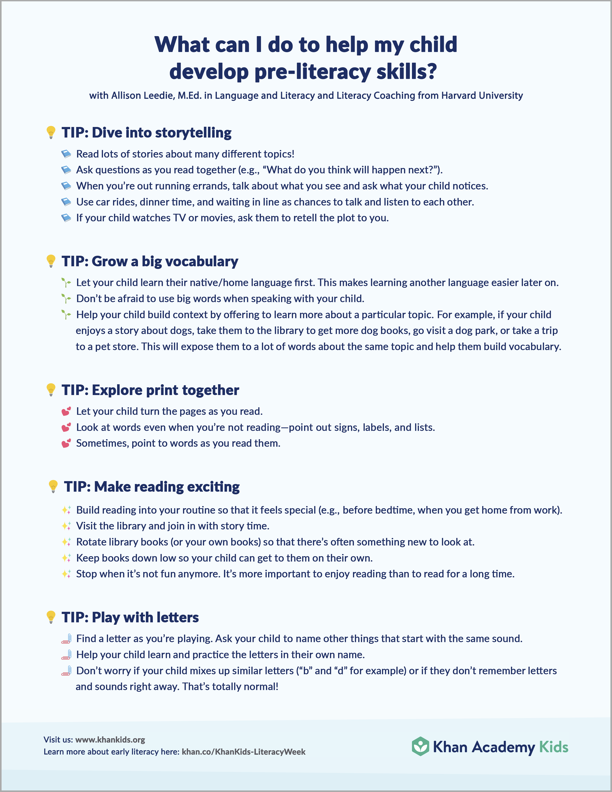 How does the Khan Kids app support pre-literacy skills?
Great question! The Khan Academy Kids app has activities for children as young as 2 years old and includes lots of pre-literacy practice.
In the Library, make sure you've set the dropdown menu to selected Kindergarten or Pre-K. In the Videos tab, check out the Early Reading and Language collection. This will give you some ideas for how to talk about and model pre-literacy skills for your learner. This video of Reya talking about the parts of a book is a good example of how Khan Kids reinforces the pre-literacy skills your child is developing.
Other activities in the app include:
Sing along with songs by our partner Super Simple, located in the Videos tab

Encourage your child to record a story to go along with their art in the Create tab

Listen to stories read aloud in the Reading tab, and talk about the questions together as they come up

Explore letters and sounds in the Letters tab; try starting with the letters in your child's name
No matter what, as long as you're reading, talking, and having fun, your child is well on their way to developing a strong foundation for literacy.
Additional articles
This is article #1 in our series of 5 articles about the path to reading. If you'd like to learn more, be sure to read the other articles!
Article 2) Phonics: the connection between letters and sounds
Article 3) Fluency: reading naturally, while paying attention to meaning
Article 4) Comprehension: understanding and thinking about what you read
Article 5) Reading routines: developing lifelong readers
👇 Download our pre-literacy tip sheet