The first day of school can be exciting for everyone. Khan Academy Kids helps little learners age 2-8 with fundamentals to start school strong. Create a free account and open the app to find activities for learning letters, numbers, shapes, colors, social skills, and daily routines. Let's find out what Khan Academy Kids is all about!
Move stickers and count out loud with interactive number books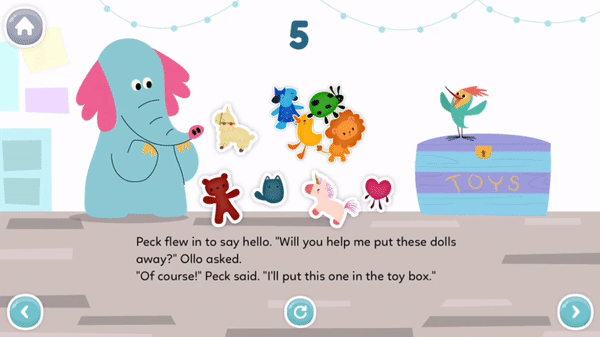 Khan Academy Kids has interactive, number-themed books in the app's Library. Children will find colorful stickers along with a friendly cast of characters to help make counting fun and interactive.
Learn letters with Ollo the elephant
Ollo the elephant introduces uppercase and lowercase letters with adorable alphabet videos inside Khan Academy Kids. There are also letter tracing activities to practice letter formation. To get started, open the Library inside Khan Academy Kids (the purple book icon on the home screen), select the Videos tab, and scroll down to the Letters section. To trace letters, select Ollo's ABC tab in the Library, and scroll down to the Tracing section.
Name numbers by counting with Peck
Peck is one of the most exciting birds you will ever meet. Peck counts everything he can see, especially his socks. To have children count along with Peck, open the Library and select Peck's 123 tab. There you will find activities for counting objects, comparing numbers, grouping, addition, subtraction and more. Activities can be sorted by preschool through 2nd-grade learning levels.
Sort patterns, colors, and shapes with Sandy
Have you ever met a dingo? A dingo is a type of animal native to Australia. Sandy is the dingo inside Khan Academy Kids, and she is sensational with patterns, colors, and shapes. Visit Sandy's Logic+ tab in the Library to explore color combinations, memory, flexible thinking, shape recognition, and size comparison. Activities can be sorted by preschool through 2nd-grade learning levels.
Make new friends and share with others
Although some kids might be nervous, the first day of school is a great opportunity for children to expand their social skills and meet new friends. Thankfully, Khan Academy Kids has an entire section of the app devoted to social-emotional learning. Select Sandy's Logic+ tab in the Library and scroll to the section on social-emotional development. There, you will find songs, lessons, and activities to explore topics like sharing, helping, facial expressions, manners, and feelings.
Enjoy storytime with Reya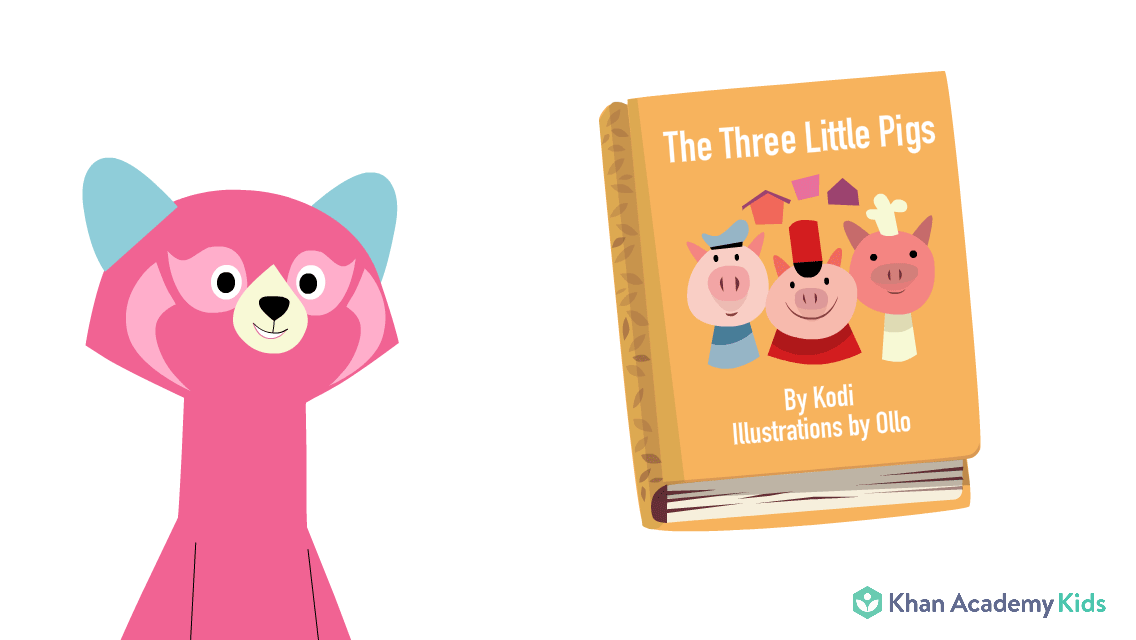 It's never too early to develop a love of reading. Reya the red panda LOVES reading. She has her nose in a book every day of the week. Curious to see what books she likes to read? Open the Khan Academy Kids library to find out! A wide selection of fiction and nonfiction stories can be found in the Books and Reading tabs.
Use the Learning Path to set aside time for learning in your daily routine
All of the resources listed above are also available by selecting the Learning Path inside Khan Academy Kids (the big green play button on the home screen). The Learning Path is designed to accommodate your child's personal progress and offers a diverse selection of activities based on your child's level. The app encourages kids to put their device down after an age-appropriate learning journey, which is between 5 to 20 minutes per day.
Use Khan Academy Kids online and offline
An internet connection is required to access all of the learning content for the Khan Academy Kids program. But we also have a special section of the app's Library that is available offline called Kodi's Suitcase. Here, young learners can enjoy Khan Academy Kids anytime, anywhere, even without an internet connection.
Download today
Khan Academy Kids is FREE, for everyone! Download the app on Apple, Google Play and Amazon app stores.
Contact us
Questions? We'd be happy to hear from you. Reach out to us at khankids@khanacademy.org.
Find out what's new with Khan Academy Kids by following us on Twitter, Instagram, and Facebook.