Welcome to Wonderful Wings Week at Camp Khan Kids! This week kids can learn about winged creatures, great and small, who soar to great heights in glorious ways. Join us to take a closer look at the fascinating world of butterflies, bees, birds, and more! 🐝
[Click here to download this week's printable packet]
[Click here to download Khan Academy Kids]
See the schedule below for this week's activities and scroll through this article to find details and links. Feel free to mix and match activities to fit your family's needs.
Having fun during Camp Khan Kids? Share your photos and stories with us on social media. Follow us on Twitter, Facebook, or Instagram, and include #campkhankids on your posts. You're also welcome to submit your child's artwork here.
Monday
Watch: Butterfly Circle Time
Welcome to Wonderful Wings Week at Camp Khan Kids! Today we're learning about butterflies. Watch Circle Time to listen to books about caterpillars, butterflies, and amazing transformations in nature. Then, see Caroline color a butterfly, and join Sophie as she flaps her wings to fly!
Still curious about butterflies? Visit a butterfly conservatory with Caitie's Classroom!
Read: Butterflies
Look at butterflies up close in the Butterflies book by Bellwether Media in the Khan Kids app. Find this title in the Books section of the Khan Kids Library which will feature Camp Khan Kids summer reading for the month of July. Children who are just beginning to read can choose Read to Me, and readers who would like to practice reading by themselves can try Read by Myself. Zoom in to see the scales on their wings and curved antennae.
Ask kids a question after the story, such as, "Why do butterflies like flowers so much?"
Write: Color a butterfly and describe its life cycle
Butterfly wings are so colorful! Start today's writing activity by inviting campers to color a set of wings on our coloring page. Find the butterfly coloring page in our printable packet, or in the Create tab of the Khan Kids Library for the month of July. Extend the activity by drawing or describing the life cycle of a butterfly (egg > caterpillar > chrysalis > butterfly).
Learn: Patterns, shapes, and colors
Head to the Math tab in the Khan Kids Library and select the Kindergarten learning level. Scroll down to the lessons for patterns, shapes, and colors. After doing a few lessons, ask kids to think about the bright designs on butterfly wings. What types of patterns and colors have they noticed on real butterfly wings? This is a great moment to talk about symmetry and patterns in nature, too! Extend the app activities with the Sorting Shapes worksheet in this week's printable packet!
Play: Make your own wings!
Ready to fly? Recycle cardboard into butterfly wings of your own. An easy way to start is to take a cereal box, open it up, and trace a wing outline on the inside of the box. Cut along the lines, and then decorate the cardboard. Here is a photo we found for inspiration from Mini Mad Things. We also love this butterfly symmetry activity from Little Pine Learners. Once your wings are made, we'd love to see the creations. Tag us on social media with the hashtag #campkhankids!
Images from Mini Mad Things and Little Pine Learners
💛 Note: When we play at Camp Khan Kids, we can be as flexible or creative as necessary. Do what works best for you. If you'd rather not deal with cardboard, just cut out wings from paper. For example, kids could even assemble a kaleidoscope of butterflies from sticky notes!
Tuesday
Watch: Bee Circle Time with Climate Science + Look inside a beehive with Caitie's Classroom!
Today we'll have a blast learning about bees! Start by listening to the Bumblebees book on Circle Time to study fascinating facts about how bees nest, work, and fly. Then, join our friends at Climate Science to see how bees communicate through the waggle dance.
Then, look inside a beehive on a field trip with Caitie's Classroom!
Read: Bumblebees
Take another look at bees up close by reading the Bumblebees book in the Khan Kids Library. See photos of bumblebees as they fly their fuzzy bodies from flower to flower. If you have a moment to read more about bees, we love this post from Nature Inspired Learning with bee book recommendations for kids of all ages.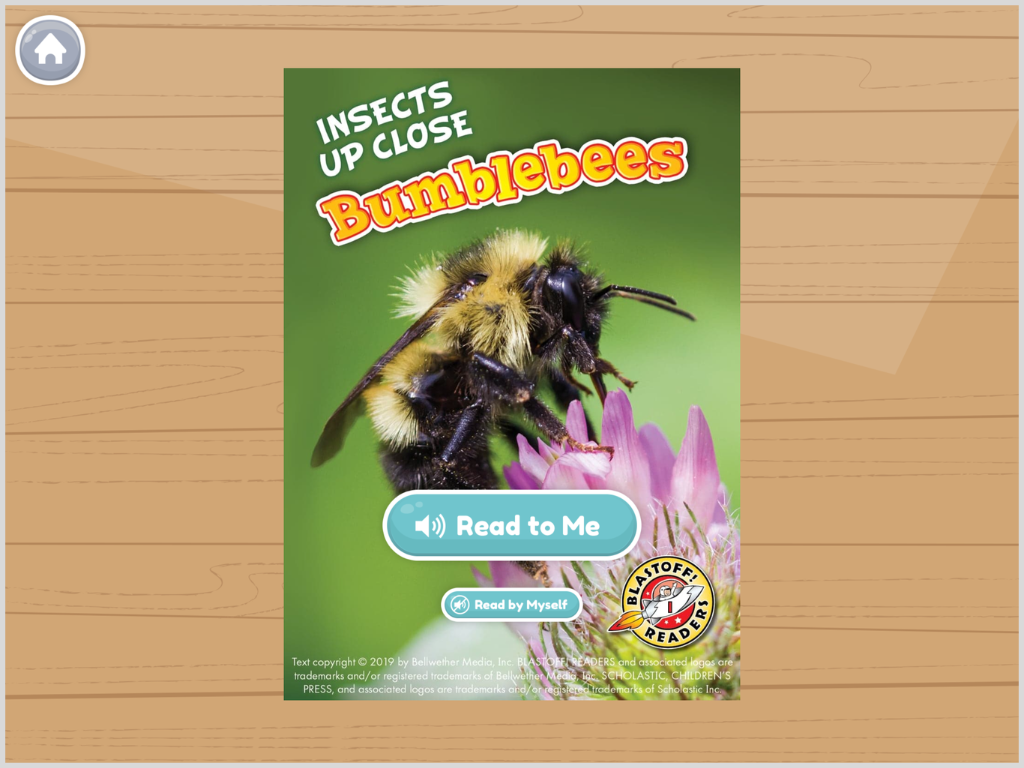 Write: Words that rhyme with "bee"
Time to rhyme! We have a new bee coloring page which you can find in our printable packet or in the Create tab of the Khan Kids Library for the month of July. After coloring, ask kids to make a list of words that rhyme with "bee." We hope you'll agree that this task may prompt a learning spree! Whoopee!
Learn: Focus and flexible thinking
Bees are fascinating creatures! Let's build our observation skills so we can pay attention when we see them in the natural environment. Today, invite kids to spend time in the Logic+ tab of the Khan Kids app. Focus, memory, and thinking lessons are available for all age levels. These lessons include activities for matching, sorting, and following directions. Encourage learners to pay close attention, because sometimes Kodi's instructions change!
Play: Choreograph a "waggle dance" with Climate Science
Our friends at Climate Science have an entire lesson to help kids learn about how bees communicate. Basically, bees move in a way that tells other bees how far away the nectar is and in which direction. Take part in this activity by inviting kids to choreograph their own waggle dance as we saw in Circle Time today. Don't forget to take a video and show us their moves! #campkhankids
Wednesday
Watch: Ladybug Circle Time
Did you know that ladybugs have wings too? Yes, they are under the ladybug's covers! Watch this episode of Circle Time when Caroline and Sophie discover this fun fact!
Read: Fireflies and Ladybugs
Discover more facts about winged insects by reading the Fireflies and Ladybugs books by Bellwether Media in the Khan Kids Library. Ask kids what they find interesting about each insect. For fireflies, we loved learning that they light up at night to talk to each other. For ladybugs, it's great to know that they eat aphids, which helps farmers!
Write: The story of Reya and her friend Joy
Reya the red panda is friends with a ladybug named Joy. You can find Joy in the book Reya's Bug in the Khan Kids app. How did Reya and Joy meet? We'd love to hear what your kids think. Ask them to create a story about this special relationship between a red panda and an insect. Stories can be written on paper or narrated out loud. We hope this activity sparks some joy! ✨
Learn: Sounds and syllables
Talking is learning. Invite children to sound out words so they notice letter sounds and syllables. Head to the Reading tab in the Khan Kids app and adjust the gray dropdown menu to your child's learning level. Browse the lessons under "Reading Foundational Skills" to find options for practicing letter and word sounds. While out and about today, strike up conversations about words!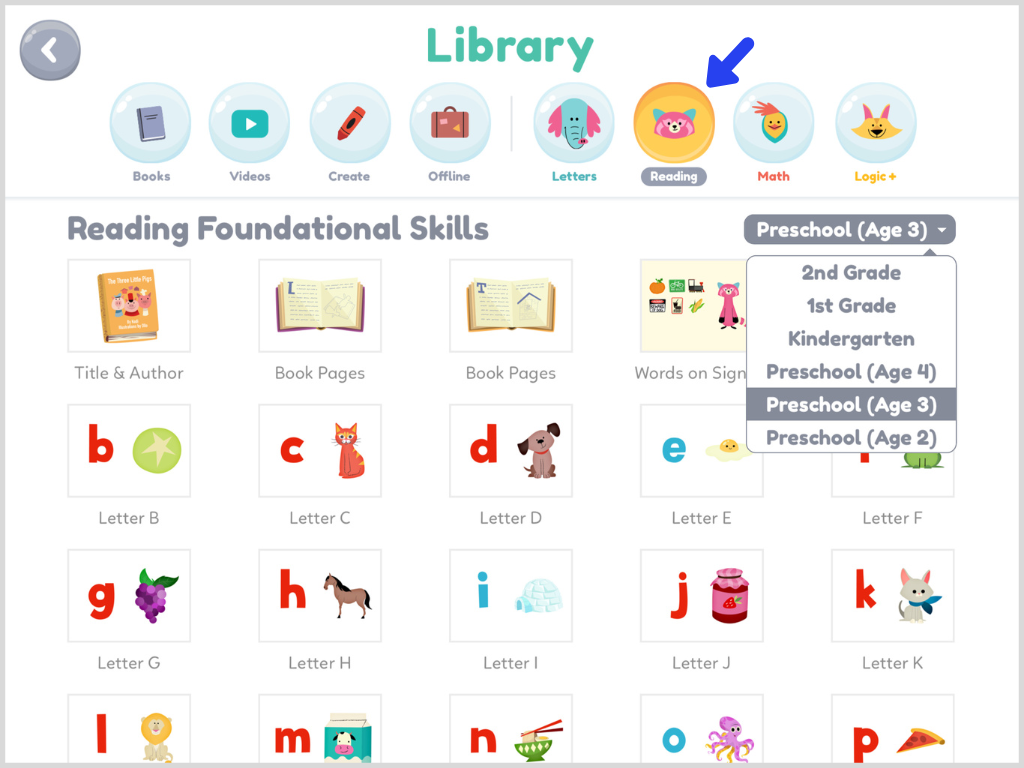 Play: Paint rock bees and ladybugs
Transform stones and rocks into a colorful insect playset. Start by hunting for some round and oval stones, and then color bee or ladybug designs on them. Add eyes and wings. These examples from our friends at Super Simple are too cute! Extend the activity by making a homemade flower patch for these new pals to land on.
Thursday
Watch: Field trip to Bird Kingdom with Caitie's Classroom
Wonderful Wings Week continues with a field trip to Bird Kingdom, one of the world's largest aviaries. Catie from Super Simple Songs leads the way, introducing birds like canaries, finches, and ducks. Don't miss the part where she laughs along with the Kookaburra and dances with the parrot!
For more bird facts, we also like this kid-friendly video called "All About Birds" by FreeSchool.
Read: Hummingbirds
Get those wings moving by learning about hummingbirds! Did you know that hummingbirds can flap their wings more than 80 times each second? Discover more fun facts about these mighty little birds by reading the Hummingbirds book by Bellwether Media in the Khan Kids Library.
Write: Name as many birds as you can
For today's writing activity, invite your child to reflect on what they've learned by writing down as many types of birds as they can recall. Kids can either write in the Create tab of the Khan Kids Library, use scratch paper, or print the writing page included in this week's printable pack. Younger kids can color or trace Peck the hummingbird on today's coloring page.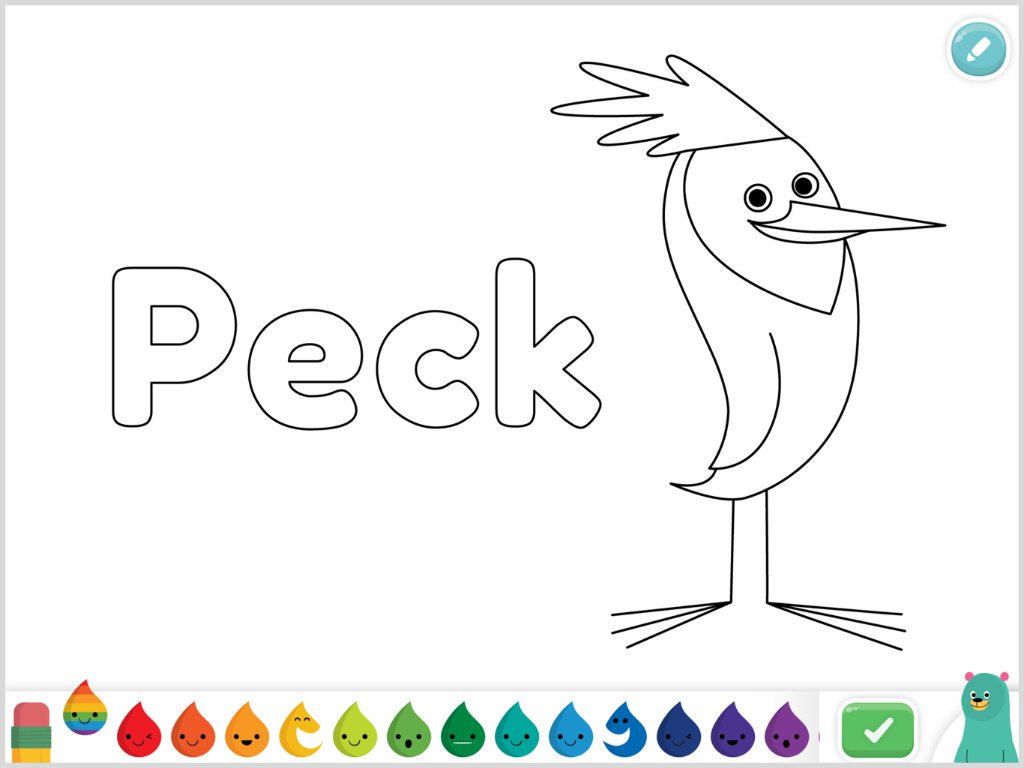 Learn: Count with Peck
Given that there are over 10,000 species of birds in the world, counting them all up can be quite a task! Luckily, Peck the bird loves counting. Head to the Math tab in the Khan Kids app to practice counting today. Older learners can practice multi-digit addition, equations, and word problems. For a hands-on activity, cut, color, and count with the bug counters in our printable pack.
Play: Build a bird feeder
Assemble recycled materials to make a bird feeder for the birds in your neighborhood. There are lots of options and styles to choose from. Our friends at Super Simple made a bird feeder out of a milk carton. Others have made bird feeders out of orange peels! We've also seen bird feeders made out of peanut butter and pine cones. (See inspiration from this blog post at Colorado Parent.) Wow! We'd love to see what your kids create! #campkhankids
Images from Super Simple and Colorado Parent
Friday
Watch: Baby Owl Circle Time
Today, kids will have a hoot learning more about birds, including owls! Start with an episode of Circle Time where Caroline and Sophie read two books about owls.
Read: Birds and Great Horned Owls
Round out the week by discovering more nonfiction bird books in the Khan Kids Library. The book Birds by Bellwether Media provides an overview of how birds hatch, different bird types, and where they migrate. Plus, the book Great Horned Owls (in the "Backyard Wildlife" section of the Khan Kids Library) provides interesting details about how birds hunt for prey!
Write: Fill in your certificate for completing the week!
Time to celebrate! Invite campers to fill out their certificates for completing the week. Find the certificate in the printable packet. During the month of July, you can also find a digital version inside the app which campers can export and save. Consider sharing your certificate with a friend so they can join Camp Khan Kids too. All of our programs are available for free—for anyone, anywhere!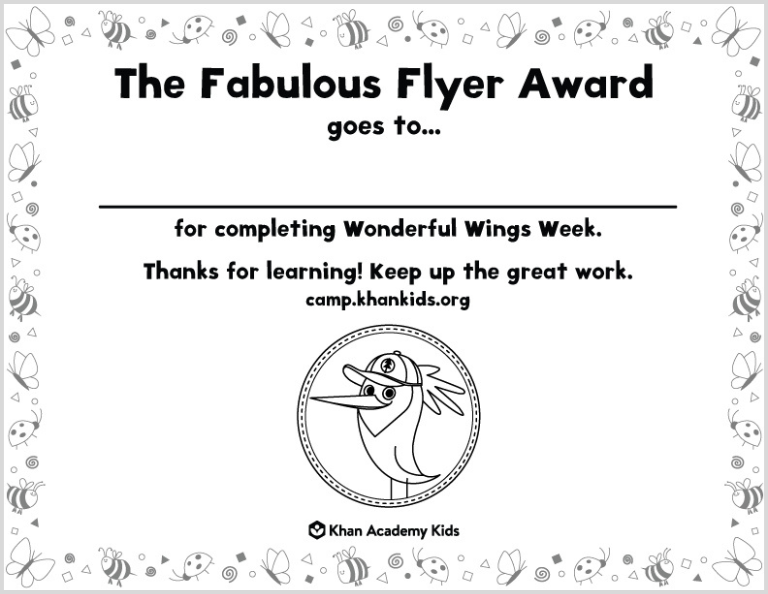 Learn: Flying Eagle Yoga
Take flight, little learners, and flow with our friends at Alo Yoga. Practice movement and mindfulness exercises that help kids experience what it's like to be an eagle. Start as a hatchling in an egg pose, then stretch those wings and exhale. This sounds fun for parents, too! Access this video on YouTube, or find it in the Videos tab of the Khan Kids Library under Yoga & Movement in the 1st and 2nd grade levels.
Play: Fly a kite or make a Tiddlycopter with Moshi Kids
Fly into the weekend with the wind in your wings by playing with things that fly. Start simply by folding and flying paper airplanes. Experiment further with the Tiddlycopter craft by Moshi Kids. Don't stop there. What about a paper bag parachute or a paper plate frisbee? Better yet, dig out an old kite from the toy box and revive it at the park.
Have a great weekend! 👋
We hope this week has helped your little learners take flight! We love seeing your stories and photos on social media. To join the fun, follow us on Twitter, Facebook, or Instagram, and include #campkhankids on your posts. You're also welcome to submit your child's artwork here.
👇 Download this week's printable packet