Khan Academy Kids is developed alongside experts from Stanford University, and is aligned with several sets of educational standards. If you teach to Common Core State Standards or to the Head Start Early Learning Outcomes Framework, you can now search by standard to find related lessons.
1. Open the app and tap your teacher avatar. Enter your password. Your teacher view will open on the Students tab.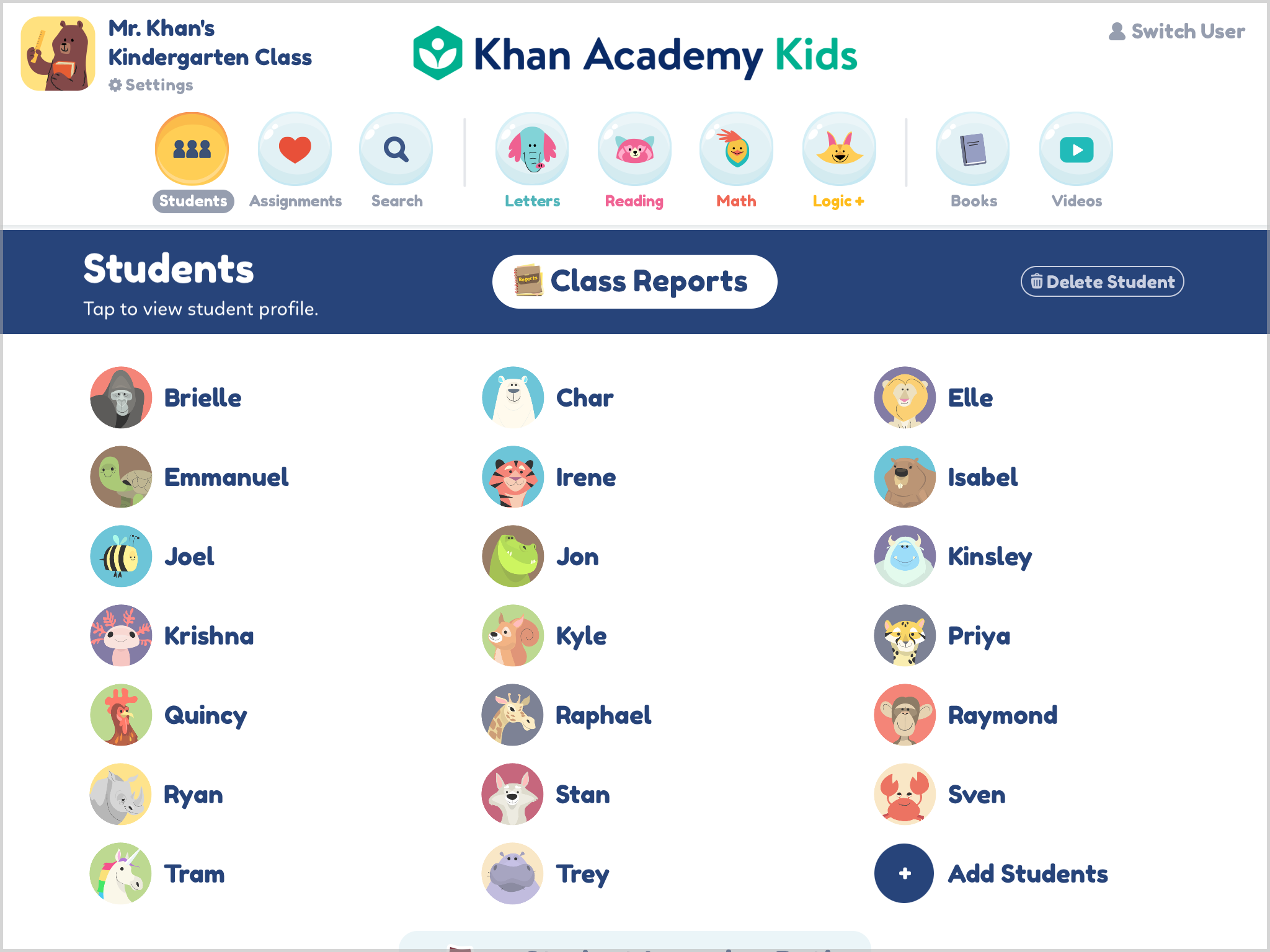 2. Go to the Search tab. You will see a dropdown menu that says Choose Standard. Tap the dropdown menu and select the set of standards that is applicable to you.
Note: Our "KHAN" standards cover some early math topics and executive functioning skills. These standards are based on the Sesame Street Framework for School Readiness and guidelines from Harvard University's Center on the Developing Child Harvard.
3. After selecting your set of standards, the menu will ask you to select a domain. You will then see standards strands (CCSS) or sub-domains (ELOF), and the menu will continue to carry you down to the individual standards.
At any point in the menu, you can select "BACK" to return to the previous drop-down options.

If you would like to see a larger grouping of standards, you can select the (ALL) option from the drop-down menu

. For example, if you would like to browse through the 1st Grade Common Core Geometry standards, you can navigate to: Common Core 1st Grade > CCSS.MATH > CCSS.MATH.1.G > CCSS.MATH.1.G (ALL).
For questions about our standards alignment, please email us at

k

hankids@khanacademy.org
4. As you browse by standard, you can assign lessons by tapping into the lesson. For further instructions, please see, Module 3: Assigning Lessons.