Please note that when you set up a Class Account, you (or your school) are responsible for notifying parents and obtaining any parent consents that may be required for your student to use the Khan Academy Kids app. If you are a teacher looking for resources to help roll out Khan Academy Kids with your students and families, click here.
New users
1. Download our free Khan Academy Kids app on your mobile device. If you already have an account with the Khan Academy Kids app, please skip to the "Existing users" section below.
2. Open the app and tap "Sign Up."
3. Enter your email address and tap Next.
4. The app will prompt you to check your email. Open the email from Khan Academy Kids and click "Verify Email."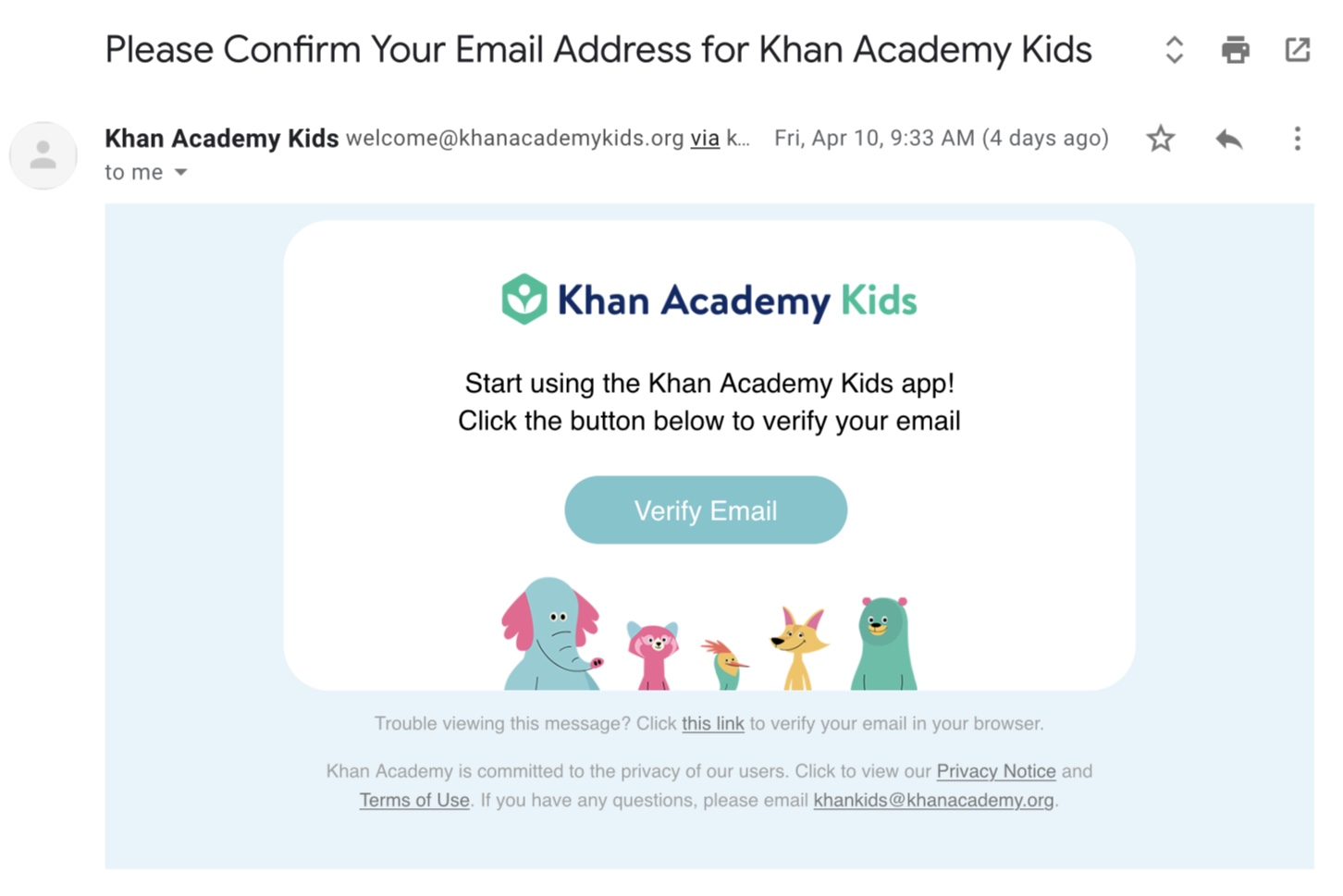 5. Return to the app. Tap Next. You will see "Your email has been verified!" Tap Next again. If you experience any issues with verification, please see the instructions here.
6. The app will ask, "What is your child's first name?" Do not enter a name; instead, tap "Switch to Teacher Setup."
7. Enter your teacher name and create a password.
8. Select the grade level you teach. Select the level that applies to the majority of your students. You will be able to change their individual levels later. If you have any questions, please reach out to us at khankids@khanacademy.org.
9. Enter the first names of your students. Type in one name—for example, you can type the name "Ollo"—and then press enter/return. Type in another name, and press enter again. Keep going until all students are on the list. You can also paste in a list of names. You will be able to add and delete students later.
10. You will see a list of your students with a drop-down menu beside each name. You can adjust their levels now, or you can adjust at a later time. Leveling will not differentiate the lessons you assign. It will guide their independent learning experience. For more information about leveling students, see the article here.
11. When you have finished selecting individual levels, tap Next and you will see a screen with a teacher avatar and all student avatars. The app randomly assigns avatars to each user. You can change these later. Your Class Account is all set up!
To continue through our Class Account onboarding modules, read Module 2 next to learn how Class Codes are used to sign in.
Existing users
1. Open the Khan Academy Kids app.
2. Tap "For Parents" at the bottom of this screen:
3. Tap your email address. A drop-down menu will appear.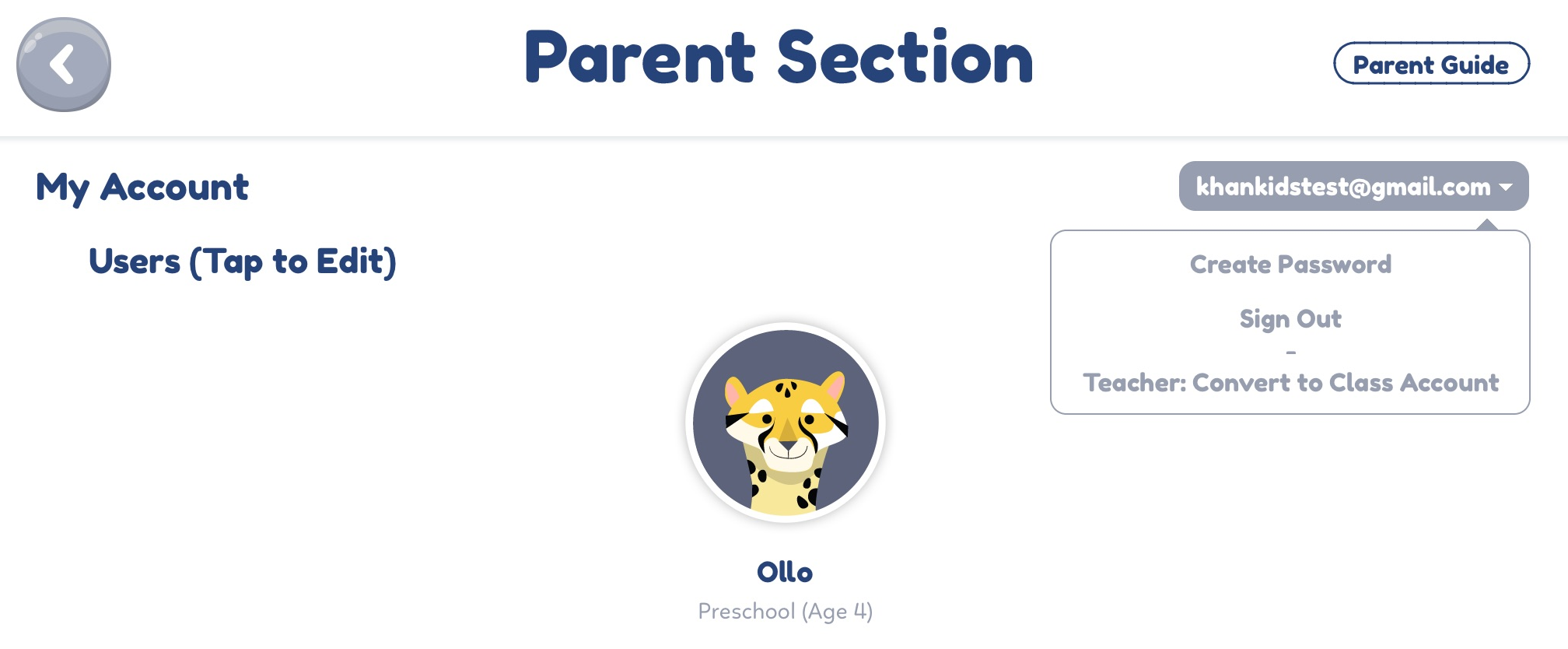 4. Select "Teacher: Convert to Class Account."
Note: Converting to a Class Account will not delete progress or rewards on existing accounts. However, you will not be able to revert back to a Parent Account once you change to a Class Account. If you are not sure whether you want to convert, we suggest creating a new Khan Academy Kids account with a new email address (following the steps above for "new users") to test the Teacher Tools.
5. Create a password, enter your teacher name, and confirm you would like to convert.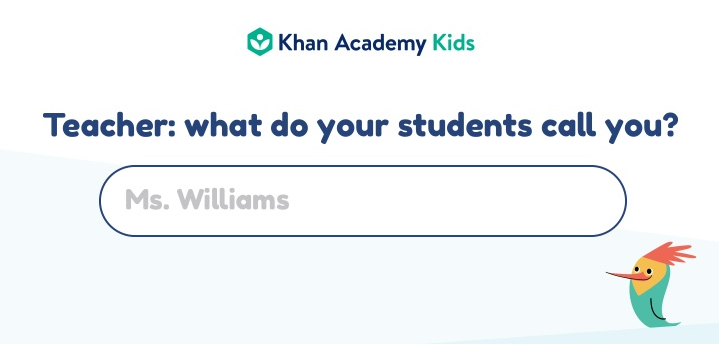 6. You will now see the new screen with the Teacher and Students when you open the app!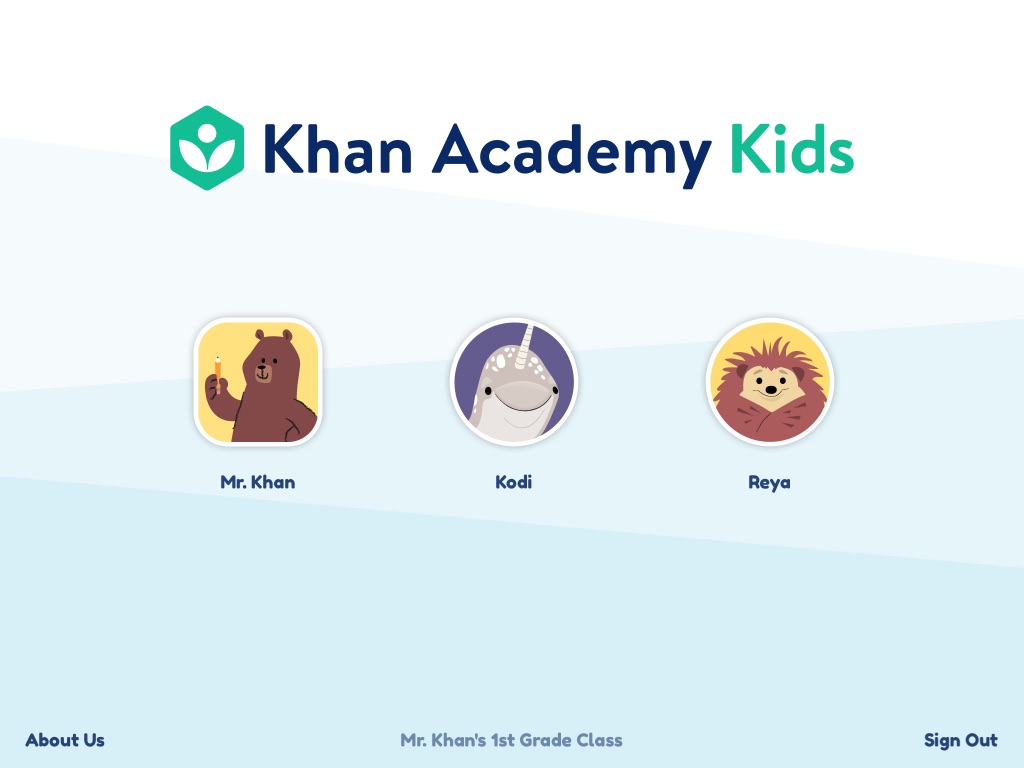 To continue through our Class Account onboarding modules, read Module 2 next to learn how Class Codes are used to sign in.